by Stephanie Osborn
http://www.stephanie-osborn.com
Today we get an excerpt from the first book in Christine Amsden's popular Cassie Scot series, Cassie Scot: Paranormal Detective! MORE, the ebook format is on SALE for holiday gift-giving, at only $0.99! Check it out!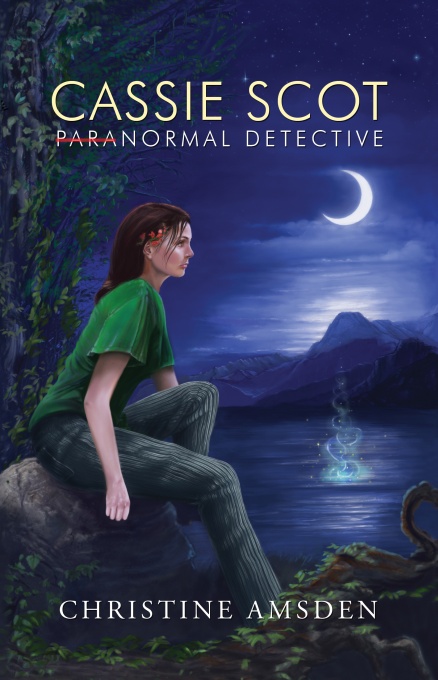 My parents think the longer the name, the more powerful the sorcerer, so they named me Cassandra Morgan Ursula Margaret Scot. You can call me Cassie.
I've been called a lot of things in my life: normal, ordinary, and even a disappointment. After the Harry Potter books came out, a couple of people called me a squib. Since I haven't read them, I have to assume it's a compliment.
Personally, I prefer normal, which is why the sign on my office door reads: Cassie Scot, Normal Detective.
You have to understand that around here, when your last name is Scot, people are easily confused. Not only are my parents powerful practitioners, but I have six talented brothers and sisters. Plus, my family hasn't always been known for its subtlety. When weird stuff happens around here, the people who are willing to believe in magic are prone to suspect the Scots.
The day I opened for business I got a call from an old woman who swore her cat was possessed by the devil. She also swore she'd read my web site, which clearly stated the types of work I did and did not do. Exorcisms were on the No list, and while I hadn't specified pet exorcisms, I would have thought it was implicit.
After that auspicious beginning, things went downhill. It seemed people weren't entirely convinced an associates' degree and six months as a deputy with the local sheriff's department was quite enough to fly solo. I did receive three calls from people asking me to cast spells to look for lost items, two from people in search of love potions, and two from a pair of neighbors who each wanted me to curse the other. I thought I'd hit bottom, when a ten-year-old boy wandered into my office one afternoon and asked me to help him summon Cthulhu...
...

"Cassie, I'm Frank Lloyd." He released my hand but held my gaze as if he could take the measure of me by looking through them to my soul. Some practitioners can do that, actually, but I've never met one.
"Yes, I know." I did not lower my eyes. Something told me that would be a sign of weakness. "What can I do for you?"
"I've got a small job for you, if you have the time." It was very diplomatic of him to say it like that, since I'm sure he knew I had plenty of time.
Ok, so it wasn't sexy, but it was a job, and it had nothing whatsoever to do with magic–or so I thought. In any case, at that precise moment, I couldn't have been more excited if he'd dropped some line out of a movie about someone trying to kill him.
"I can do that," I said in a calm, measured tone. "Who am I serving?"
Frank broke eye contact and stepped around me to the desk, where he laid his black briefcase down and opened it. On top of a large sheaf of papers lay a plain white envelope with the name, "Belinda Hewitt" written on it in a long, slanted handwriting.
Hewitt was another name that many people in town associated with magic, though few were diplomatic where the Hewitts were concerned. Even my mom called them witches, and she normally wouldn't call a woman a sorceress. (She thinks it's sexist.)
Belinda was a gifted herbalist and an expert potion maker. A gift is, well, it's a special power tied to the soul in such a way that it can be performed almost without thought, and it has a strong influence over the bearer's personality. Most sorcerers possess a gift, as well some seemingly ordinary people, though in the latter case you can usually find magic in their family tree. Belinda's gift was growing things, but to say she had a green thumb would be like saying a diva could sing. Belinda could grow things, anything, anywhere, and under conditions that would starve farmers out of business.
She sold a lot of her plants and herbs to local practitioners, though my parents refused to buy from her because of the other thing she liked to do–brew potions, especially love potions. At any given time, she would have two or three men under the influence of powerful love potions that made them hopelessly devoted to her. She would play with them for a few months or a few years, depending upon how interesting they were, and then cast them aside. She'd torn families apart.
It was mind magic. My dad liked to say that magic itself is never black; only the uses to which it is put, but mind magic is already tinted a deep, dark gray.
As far as I knew, though, Belinda had never been married, so I wasn't sure what Frank Lloyd would want with her.
"Belinda Hewitt?" I raised an eyebrow at Frank in question.
"My firm is filing a class action lawsuit against her on behalf of a number of men who feel her love potions have caused them irreparable harm."
"Gutsy move." I approved. I whole-heartedly approved, but going head to head against a practitioner could be dangerous, to say the least. For the most part, they did what they wanted to do and suffered no interference, not from other practitioners and certainly not from the law.
I wasn't entirely sure what Belinda would do to me if I showed up on her doorstep with a subpoena. Probably, nothing, since she'd have to answer to my parents for anything she did to me. That may even have been why Frank chose me, but I wasn't too proud to take advantage of my connections when it suited me, as long as the job itself was normal.
"Belinda is going to curse you for this," I said as I took the envelope from Frank.
He just smiled. "I appreciate your concern, but it's about time the sorcerers living in our community learn they are not above the law."
What a beautiful sentiment. I used to think that way, back when I'd first dreamed of becoming a cop. Fat chance, though. The sorcerers in our community owned this town, whatever most of the regular folks thought. Everyone else was tolerated, and that included me.
For a minute, I wondered if I should try to talk him out of it. As much as I loved the idea of putting an evil witch in her place, Belinda wasn't someone to mess with. That either meant he didn't believe in magic, didn't understand it, or he had an ace up his sleeve.
I lifted my eyes to his and saw the confident, calculating expression there. He was still sizing me up, and in that moment I took the measure of him as well. He wasn't insanely successful because he walked into anything blindly.
"You have an ace," I said. It wasn't a question.
"I'll run this over to Belinda's this morning," I said. "I'll give you a call when it's done."
Frank reached into his pocket and pulled out a business card. "If this works out, we may have some more work for you."
I took the card from him, letting a genuine smile touch my lips. Lightning struck again and thunder rumbled. "Thank you."
He packed up his briefcase and left without another word.
Succeeding books in the series include Secrets and Lies, Mind Games, and Stolen Dreams (coming soon)! Start your loved one (or yourself!) out right, with the entire set!